"There'll be happiness after you, but there was happiness because of you. Both of these things can be true. There is happiness, past the blood and bruise, past the curses and the cries."

from Taylor Swift's "Happiness"
Welcome, 2021.
I struggled a lot while thinking about how I wanted to open this post. For as long as I can remember, New Years have held an almost sacred place in my mind. To me, they hold a restorative power. Every year, I have looked forward to reflecting on what I have experienced and setting goals for the months ahead. In 2018 and 2019, I couldn't wait for the clock to strike midnight and grant me a new beginning. Yet as the clock ticks closer to the end of 2020, I struggle to muster the same anticipation for pursuing new resolutions as I have in the past. Perhaps it's because this year I increasingly feel that my days are blurring together, or because, amidst a global pandemic that demands social distancing and isolation, I have already found ample time for self-exploration. Regardless of the reason, I am learning to make peace with myself and the uncertainty: doubt cannot change my online college experience, and fear cannot change what has already passed during the year of 2020. Sometimes I feel driven and inspired; other times-- this time-- I want rest.
I hope that wherever you are, you are safe and well, and being kind to yourself.
What I lived
After a thoughtful conversation with a classmate, I am striving to frame my yearly goal-setting around themes rather than statistics. If I were to pick a theme for what I experienced during 2020, it would be "self." I wrote extensively about this in my recap of my fall semester, but this year I learned a lot about myself. In reflection, exploration, and later actualization, I questioned who I am, what I want to be, and why the world is the way that it is. For the first time in a long time, I can say that I have learned to love who I am, and for that I am proud. Some highlights:
I finished my freshman year of college and started my sophomore year. I officially declared my majors in international relations and history.

I challenged my body in new ways this year. I ran my first half-marathon in March in circles around my neighborhood, did 100 push-ups every day for a month in July, fell in love with strength training, and got my first pull-up this year (and can now do eight!). More importantly, though, I have finally developed a healthy relationship with exercise. I now look forward to it as something fun for myself rather than an obligation.

I learned a lot from listening to others about their stories and life experiences, and I developed interests in new areas that I am excited about.

I started the Soshelf Distancing Book Club over the summer with Tessi of Bookrapt, and met so many wonderful members of the book blogging community! I had lovely and challenging conversations with other passionate readers and I am so happy to call them my friends (shout out to Riv, Joey, Emily, and Sofia!)

Through a summer institute run by my school, I had my first two [ remote ] internship experiences. I started another internship that I will work during the remainder of the school year in December.

I read a lot, wrote a lot, listened a lot, thought a lot, and called people on the phone a lot.
What I read
This year, as of December 28, I have read 55 books (although I am hoping to add one or two more to that total before 2021). Two themes characterized my favorite reads: empathy and escape. I read more memoirs and nonfiction books in 2020 than I ever have before. These books presented me with new perspectives and stories that allowed me to feel seen or see others. Both my favorite fiction and nonfiction books this year also provided me with an opportunity to submerge myself in a different reality if only for a moment. Here are my top six:
The Seven Husbands of Evelyn Hugo
by Taylor Jenkins Reid / In this novel, Reid invites readers to a series of intriguing interviews between Evelyn Hugo, an aging former celebrity infamous for having seven husbands, and Monique Grant, an up-and-coming journalist struggling with divorce. Hugo's life story is rich and compelling. Now a renowned actress, Hugo claims that she controlled the world: since she was a teenager, she knew she aspired to fame and she relentlessly pursued it. Yet the prevalence of racism, sexism, and homophobia throughout her career, from older male producers that promise her roles for sex in her youth to taking on seven husbands to conceal her sexuality from gossip columns suggests that the world, filled with discrimination and judgement, may have controlled her, too. I want to re-read this book soon.

Know My Name
by Chanel Miller / In this memoir, Miller recounts the pain that she experienced after being sexually assaulted by Brock Turner. Miller's victim impact statement, in which she denounced the systems of privilege and power that first allow "boys to be boys" and later enables rapists to walk free while victims suffer, went viral after it was published on Buzzfeed. Originally, the statement was published anonymously. In this book, Miller claims her identity. Her writing is lyrical and made powerful by her vulnerability and honesty.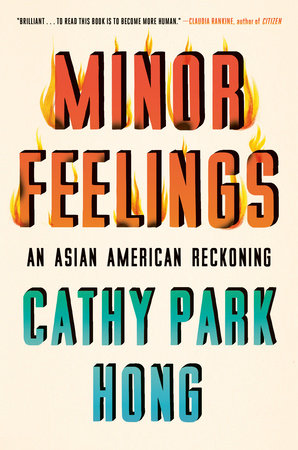 Minor Feelings
by Cathy Park Hong /
Minor Feelings
deeply resonated with me. In a series of essays, Hong explores what it is like to be Asian in America, to be both a victim and a perpetrator of racism, and to endure "minor feelings," or negative emotions that result from having responses to everyday instances of discrimination belittled and ignored. Hong's experience is different from mine: the author was born to two Korean immigrants; I am half-white, half-Korean, and I only grew up speaking English. Hong beautifully articulated her nuanced and complex Asian-American experience, something I admired so much because I continue to grapple with how to do it.
Born a Crime
by Trevor Noah / Trevor Noah, the child of a Black woman and a white man during Apartheid, was quite literally "born a crime." In his memoir, Noah describes himself as a chameleon, learning multiple languages to navigate separate Black, mixed, and white communities, but never quite fitting in with one. Still, he observes that language can allow us to defy racism: if you speak like me, you must be like me. Noah's willingness to be vulnerable with the reader makes this book emotional and evocative. But what distinguishes this story is the author's ability to find meaning and even humor in tragedy and inequity, largely due to his mother's powerful and loving influence. I laughed and cried while reading this book.
Interior Chinatown
by Charles Yu /
Interior Chinatown
is a funny yet sobering satire that illuminates the stereotypes and barriers that Asian men face in modern media. The book is presented in the form of a screenplay that stars Willis Wu, an actor who plays Generic Asian Man in a cop show entitled "Black and White." Wu aspires to become Kung Fu Guy, the greatest role available to an Asian man in Hollywood, but must first endure a series of supporting roles including Background Oriental Male, Generic Asian Man Three/Delivery Guy, Dead Asian Man, and Striving Immigrant. I have so much to say about this book-- expect a review soon-- but for now I'll sum it up with one word: brilliant.

The Burning God
by R. F. Kuang / At the recommendation of the book blogging community, I picked up the
Poppy War
series, and I am so glad that I did. I'm not typically one for fantasy books, but this series enraptured me. Kuang builds vivid worlds based on Chinese history, and her morally grey characters question what drives humans to commit atrocities. The trilogy's long-awaited finale,
The Burning God
, is undoubtedly one of the most complex and addictive fiction books I have ever read.
Other things I consumed
Music:

evermore

and

folklore

hooked me on Taylor Swift, whom I have listened to exclusively for the past several months, but I also started listening through full albums from Jhene Aiko, Maggie Rogers, Childish Gambino, Ariana Grande, Mahalia, and Kehlani for the first time this year.

Podcasts: The Daily, Pod Save America, Nice White Parents, RBG: Beyond Notorious, innerFrench

TV/Movies: I loved The Queen's Gambit, Hamilton (on Disney+), The Social Dilemma, and Parasite.

Tea: I never drank much before this year, but now I am in love Korean citrus and grain teas. I also tried bubble tea for the first time.
What I blogged
This year, I wrote a few posts that I am especially proud of:
I created a podcast about the importance of the Korean church to the Korean-American diaspora, religious and non-religious.

In February, I outlined my book review process.

I wrote about racism toward Asian-Americans during the coronavirus pandemic.

For my 19th birthday, I celebrated 19 things that I am grateful for.

I accomplished one of my New Year's resolutions and interviewed not one, but two authors, Liz Lawson and Maurene Goo!

I reflected on my first semester of sophomore year and the infamous "sophomore slump".

Most recently, I wrote about racism and ethnic stereotyping in The Goldfinch and its implications on what we consider literary canon today.
As we look toward 2021 with hope, I'll leave you with this quote from BTS's statement at the 75th United Nations General Assembly that made me smile:
Stars shine the brightest when the night is the darkest.
What was your favorite book of 2020? Share with me a happy moment you experienced this year.