Nonfiction. To many readers, the name of this genre summons memories of required reading and snooze-inducing texts. Previously, as a die-hard fiction fan, I would become defensive of fiction novels at any mention of nonfiction books. My passion for fiction wasn't necessarily a negative thing-- reading fictional stories can encourage creativity and foster imagination-- however, I would consistently avoid reading nonfiction texts as much as possible.
I did, of course, continue to read nonfiction pieces for school and other obligations, albeit reluctantly. Around a year and a half ago my mom convinced me to read
Tuesdays with Morrie
by Mitch Albom, an inspiring book that left me in tears. Despite my enjoyment of this story, I stuck with my fiction-specific reading habits. Had I convinced myself, independently, to read this book, perhaps I would have the perspective-change I encounter now faster.
In the book blogging community, I fostered my love for young adult (YA) fiction. For a short period, I restricted myself to only reading books in this category, for better or for worse. I read a lot of the same. Finally, this year, a split second decision in English class expanded my horizons.
For a "Managed Choices" unit in class, teachers presented students with several books to read, write about, and specialize in for about a month. Among these titles were
Speak
by Laurie Halse Anderson,
Staying Fat for Sarah Byrnes
by Chris Crutcher,
Room
by Emma Donoghue, and
A Painted House
by John Grisham. My teacher pitched seven or eight volumes to the class, and each student picked one to read and analyze. I noticed that the only nonfiction story listed was
The Glass Castle
by Jeannette Walls. The premise intrigued me, yet initially I remained hesitant to voluntarily select a nonfiction book. My teacher recommended Walls' writing, though, and noted many, herself included, enjoyed the story.
I took the plunge.
I was not disappointed.
The Glass Castle
follows the childhood of renowned journalist Jeannette Walls, who faced homelessness, irresponsible parents, violence, sexual abuse, at a young age. Despite these barriers, Walls remains loyal to her family and perseveres to pursue journalism. At first, I read the story in small chunks, but as I progressed, I found myself reading
The Glass Castle
in larger and larger portions, until at last, I finished the book in one sitting. I noticed that I became more emotionally attached to Jeannette and her siblings when I read on as well; I grew angrier and angrier at the unfairness of the Walls' living situation.
Reflecting upon my reading experience to prepare for an English class book talk, I was amazed by how attached I felt to this nonfiction text. I never expected to become so interested in a story that belonged to my "taboo" genre.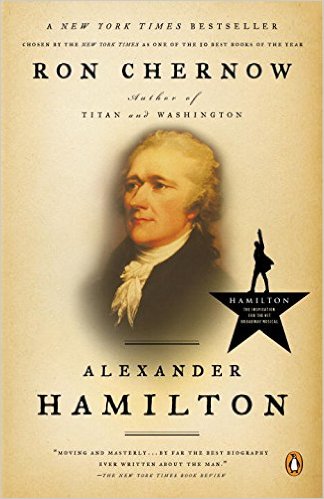 Nonfiction continued to impress me after I became entranced by the popular Broadway musical
Hamilton
. I have yet to see the show (I hear tickets are sold out through February 2017), but, simply put, I am addicted to the soundtrack. For the past month and a half, I have listened only to the
Hamilton
cast album, non-stop. I learned the lyrics and characters and their historical significance. I googled everything I could to assume as much of the
Hamilton
experience as I could without seeing the play. I realized that Lin-Manuel Miranda, the genius writer and composer of the show, grasped inspiration for the play from an 800-page, nonfiction biography of Alexander Hamilton.
Once again, I was amazed by the profound effects of reading non-fiction. My new favorite play, characters, music, historical figures, inspirations, actors, and writers had all resulted from reading a non-fiction text.
So, I broadened my reading perspective.
Now, I am striving to read more non-fiction. As a person who has generally always enjoyed history class and historical fiction books, I am surprised I never realized the importance and opportunity in reading non-fiction sooner.
Of course, this is not to say that I am stopping my fiction pursuits, or casting aside my beloved YA fiction novels; I plan to continue reading and sharing my adoration for new worlds and never-before-seen experiences.
Instead, I am seeking to remain open-minded towards every book I read now and will read in the future. (Also, I have become more obsessed with the
Hamilton
musical than I was before. Anyone have extra tickets? 😉)
How do you feel about nonfiction books?